Travel Tips
Some handy hints and tips about visiting Australia that you might not know.
Customs and Quarantine
Australia has strict customs and quarantine laws and all arriving travellers are required to pass through customs clearance. Before passing through customs, travellers are asked to declare any items they are carrying that maybe restricted, for example certain food types. This is a simple process and is in place to protect Australia's delicate ecosystem. Your luggage may be x-rayed in this process. For more information please visit the Australian Customs and Border Protection Service webpage for arriving travellers.
Time Zone
Wollongong is on Australian Eastern Standard Time (AEST) – the equivalent of Greenwich Mean Time (GMT) +10 hours. Daylight saving is from the first Sunday in October until early April (GMT +11 hours). Compare Wollongong's time zone with your country's time zone. Be advised that during the conference the southern hemisphere will be in the season of spring.
Emergency Services Number
In Australia, the emergency services number for Police, Fire or Ambulance is "000".
Power Outlets
Electrical power in Australia is supplied via type I (AS 3112) wall sockets running at 230-250 V with a frequency of 50 Hz. The connection uses a flat three pin plug pictured below. Bathrooms in hotels will often have type I, C and A sockets marked "for shavers only". The Unishop, on the UOW campus, sells adaptors for various international electrical connections and transformers for 115 to 240 volt appliances.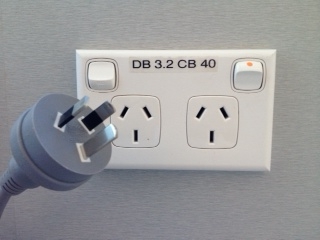 Mobile Telephones
Most phones in Australia are connected to GSM networks which operate on 900MHz and 1800MHz frequencies. If you are planning on bringing your phone with you, you should check that the technology and handset are supported by mobile networks in Australia. The Australian Communications & Media Authority has more information on technology and compatibility.
Money
The exchange rate for the Australian dollar (AU$) fluctuates, depending on the foreign exchange market. We recommend that you carry about $100-$200 in cash when you arrive in Australia. This should be enough to cover incidental expenses until you arrive at your accommodation in Wollongong. There are money exchange facilities at Sydney International Airport, and you can also exchange money at banks in Wollongong (9.30am-4pm Monday-Thursday & 9.30am-5pm Friday). A number of banking services are available on-campus.
Goods and Services Tax
There is a broad sales tax of 10% on most goods and services transactions in Australia. The tax is automatically included in all stated prices.
Tipping
Tipping is not customary in Australia. However, service staff will gladly accept them, if you feel like tipping.
Driving
In Australia traffic is Left-Handed. Like the United Kingdom and Japan, cars in Australia drive on the left side of the road.
Beach Safety
During your stay please feel free to enjoy the many fine beaches Wollongong has on offer. However, when swimming always be sure to swim at lifeguard patrolled beaches and in between the red and yellow flags (pictured bellow). Australian beaches can experience big surf and unpredictable currents that can spell trouble for even the most competent swimmers. Standing on the rocky areas along the Wollongong beach can potentially be dangerous especially during big surf condition. The lifeguards are there to help, please follow their instructions if they advise that it is unsafe to swim.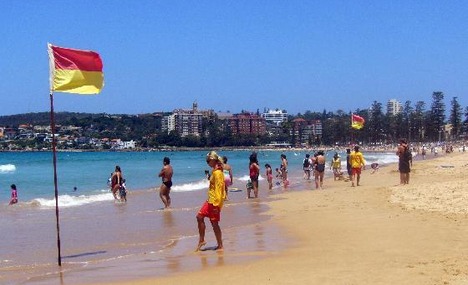 Last reviewed: 5 September, 2012
Key Dates
Conference Dates: 23 - 28 September 2012
Technical Co-Sponsor