Sponsorship Opportunities
IRMMW-THz is one of the largest international conferences on Millimetre and Terahertz technology. It attracts between 500 to 600 delegates annually. Our delegates come from a range of public and private sector organisations and represent most of the research and industrial communities from a wide range of areas including quantum physics, biology, chemistry, astronomy, medical devices and optoelectronics.
There are opportunities for your organisation to maximise its exposure to a wide range of professionals at the IRMMW-THz 2012 conference. Sponsorship packages and other promotional opportunities are available, with prices starting at only AUD1000.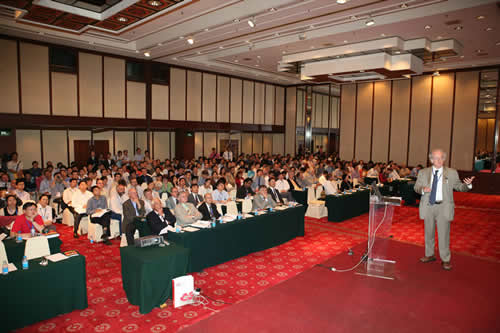 Sponsorship Options for IRMMW-THz 2012
Several types of sponsorship are available. To find out more about how you can participate in IRMMW-THz 2012, please contact irmmw-info@uow.edu.au.
| | Bronze | Silver | Gold | Diamond |
| --- | --- | --- | --- | --- |
| Acknowledgement in Conference website and materials | ● | ● | ● | ● |
| Material in delegate's bag | | 1 item | 2 items | |
| Free registration | | 1 person | 2 persons | |
| Naming rights to the conference dinner | | | | ● |
| Sponsorship fee | AUD1000 | AUD2000 | AUD3000 | AUD6000 |
Last reviewed: 27 June, 2012
Key Dates
Conference Dates: 23 - 28 September 2012
Technical Co-Sponsor